The family of unarmed teenager Antwon Rose Jr., who was shot and killed by a Pennsylvania police officer in June, has filed a federal civil rights lawsuit.
Named in the lawsuit are officer Michael Rosfeld (who shot the 17-year-old), the borough of East Pittsburgh, Mayor Louis J. Payne and Police Chief Lori Fruncek.
The lawsuit, which was filed in U.S. district court on Wednesday, alleges wrongful death and use of "excessive and deadly force."
"The overwhelming facts and unequivocal law supporting this lawsuit are so clear and self-evident that it could have been filed within days of Antwon's death," the Rose family's attorney, Fred Rabner, said in a statement. "However, the family deserved to lay their son, brother and grandson to rest in a peaceful fashion."
Rose was shot three times ― in the back, elbow and face ― according to the Allegheny County medical examiner, who ruled the death a homicide.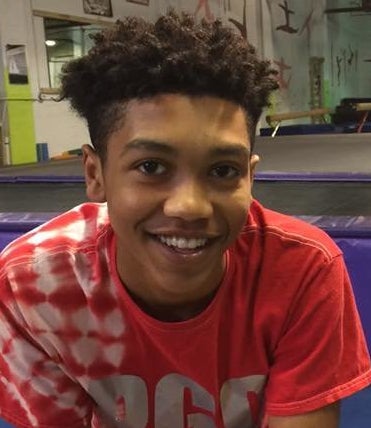 The fatal shooting happened on the night of June 19, as the teenager ran from a vehicle stopped by police. Police said they stopped the car in an investigation into an earlier drive-by shooting. Authorities confirmed Rose was unarmed but said two semi-automatic handguns were found inside the vehicle.
Police officers in Pennsylvania are permitted to use deadly force against a fleeing suspect only if the suspect possesses a lethal weapon, poses a threat of immediate danger or has threatened lethal violence.
Authorities said Rose didn't fire any shots during the earlier drive-by shooting. Another teenager in the vehicle has been charged in connection with that incident, police said.
"You can't take somebody's life under these circumstances," District Attorney Stephen Zappala said at a news conference after the charges were filed. "You do not shoot somebody in the back if they are not a threat to you."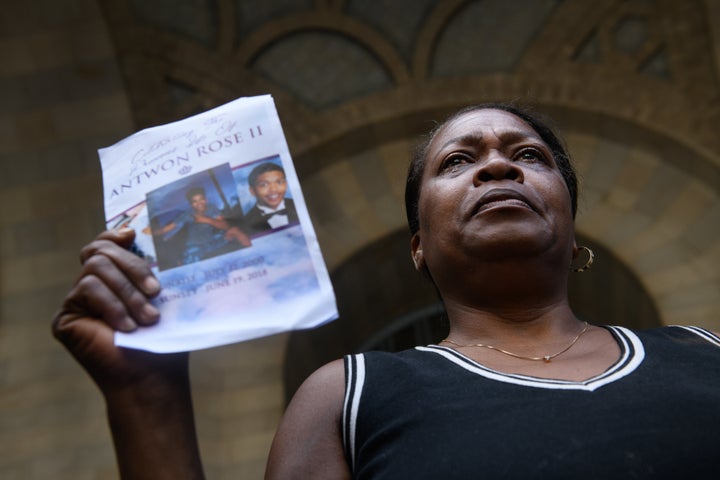 The lawsuit alleges the borough, mayor and police chief failed to properly train its police officers, which resulted in Rose's death.
The defendants' "failure to provide adequate training to its officers on how to deal with individuals during an arrest and the subsequent use of deadly force reflect deliberate indifference by the Policymakers and reckless and conscious disregard for the obvious risk that officers would use excessive or deadly force on citizens and made the violations of Rose's constitutional rights, including his death, a reasonable probability," the suit says.
The lawsuit claims Rosfeld did not wait for backup and "immediately drew his weapon and began to shout menacing and hostile orders at the occupants."
Rose did not "make any threatening gestures that would have given the appearance that he had a weapon," according to the lawsuit.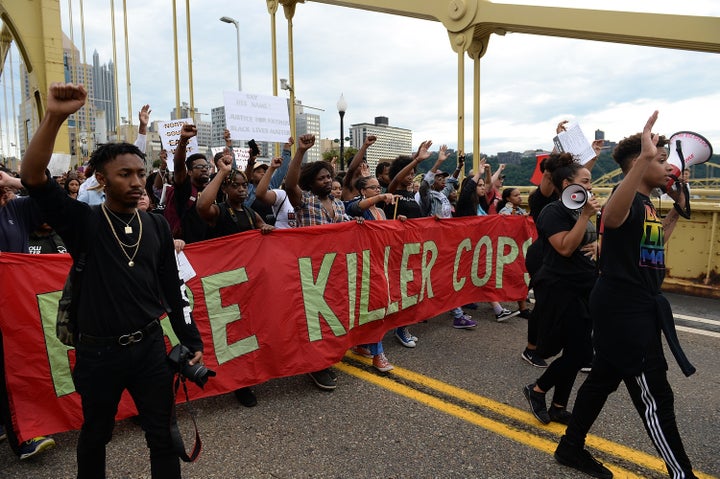 The lawsuit alleges that Rosfeld opened fire on Rose "without issuing a verbal warning or attempting any pursuit whatsoever."
The suit, which requests a jury trial, seeks unspecified monetary damages.
"While this suit will never quell their tremendous grief or minimize [the family's] tragic loss, we feel that it is time that we begin to seek answers and take appropriate court action to ensure justice," Rabner said.
Rose was a rising senior and honor student at Woodland Hills High School in Pittsburgh. His killing triggered weeks of protests across the Pittsburgh area. Hundreds took to the streets to demand justice for Rose, one of the numerous unarmed black teenagers killed by police in recent years.
Rosfeld is scheduled to be arraigned Aug. 22.